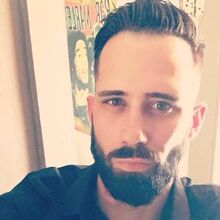 Sam Feichter, known as AstroCreep, Wolf3D conversion and port doing, Keeper of the Seven Daves, IMF ninja and master of the photoshop arts. Grows hair on his head. Potentially extremely dangerous. Run away before he converts you.
Wolfenstein 3D Mods
Edit
ECWolf Compilations
Edit
ECWolf Ports and Conversions
Edit
Super 3D Noah's Ark Mods
Edit
Rise of the Triad Conversions
Edit
ECWolf Tutorials
Edit
Abominations
Edit
Resources
Edit
Contributions
Edit
Other Stuff
Edit
Community content is available under
CC-BY-SA
unless otherwise noted.