DeathTrigger is a mod for registered Wolfenstein, made by M2 Software. It was released on April 10, 2011.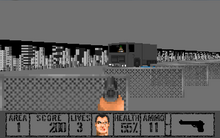 The mod features 9 levels, made by Nexion and Atina in collaboration with Jayngo who contributed the secret level. See below for further detail.
Many new graphics are included, with a lot of creative changes made to sprites and actors originally made by Mr. Wolf, among an amount of original graphics. Additionally, Mr. Wolf also contributed the storyline. Coding changes include traffic (see screenshot), the option to zoom in on targets, usable objects and a handful of other slightly rudimentary changes.
The environment is more hard-boiled and contemporary, not using any WWII aesthetic or idea. Depending on the daytime some of the enemies move faster or slower. On the 30th day of a month the enemies don't move and drop treasures upon being shot.
The mod is only available in DOS. A troubleshooting guide is included, should there be lag in any department.
DEVELOPMENT
[
]
The project started in October 2008, about a month after the release of Planet Nexion, as a code experiment with focus on moving walls and freelook. With the completion of those two basic features the game quickly formed around it. In early 2009 AlumiuN and Jayngo were sent prototypes to contribute maps. At end of 2009 the truck feature may had inspired AlumiuN to create the multiple moving pushwalls tutorial, a feature found in several of DHW's Map of the Month contests. Ultimately, only Jayngo ended up contributing one map. The project went on hiatus from 2009 to late 2010. During the final testing phase the statusbar and window border colors were changed from cyan to grey on a suggestion by Brian Lowe.
Trivia, pop culture references and easter eggs
[
]
Occasionally small bits of the project are parodying classic action games and movies.
In the manual:
In the menu:
In the quiz:
FUTURE
[
]
In the second half of 2011 a DOS split screen spin-off was in development. A handful of screenshots were posted on the homepage during the year. It got shelved later on due to technical issue and abandoned with the arrival of SplitWolf.
List of Levels
[
]
| Level Number | Level Name | Level Author |
| --- | --- | --- |
| 1 | Headquarters Overrun | Nexion |
| 2 | Enemies, Corpses, Painful Injuries | Atina |
| 3 | Assault On Precinct 69 | Atina |
| 4 | Under Siege - Die Harder & Punish Them | Atina |
| 5 | On The Run | Nexion |
| 6 | Crossroad To Hell | Atina |
| 7 | A N-Experiment | Nexion, Atina |
| 8 | Triggered | Nexion |
| Secret | Secret Office Space | Jayngo |
External links
[
]