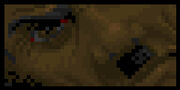 Episode 3: Die, Führer, Die! is the third episode of
Wolfenstein 3D
. It's a memorable episode for being the episode where the player can turn
Adolf Hitler
into a pile of mulch after battling him out of a battle mech, cementing Wolfenstein's place as the most zany historical fiction account of World War 2 ever made.. Like all of Wolfenstein's episodes, it contains 10 levels split across 8 normal levels, a boss level, and a secret level.
The boss of this episode is, of course, Adolf Hitler.
This episode rounds off The Original Missions trilogy. After this episode comes Episode 4: A Dark Secret. Notably, this episode is chronologically the final events played in the Wolfenstein 3D family of games, with every game or episode after it being a prequel.
Post-episode story
Edit
Episode Statistics
Edit
Community content is available under
CC-BY-SA
unless otherwise noted.