Monkee's Image World was a prolific website in the modding community for exhibiting and distributing graphical assets run by Majik Monkee. It has been defunct since 2006.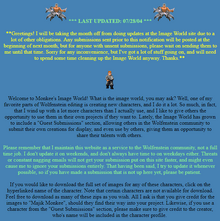 Monkee's Image World originally opened around October 7th 2003 as a way for Majik Monkee to showcase his boss sprite edits. On October 23rd he updated the site to include animated gifs of his sprites. On November 11th Monkee updated the page again to include downloads to full sets of sprites for each character.
On the 1st of January 2004 Monkee opened the Image world for guest submissions. This set the Image World in motion to become the community sprite sharing site it would later become known as.
On February 4th 2004, after a brief closure, the Image World was reopened on the stipulation that animated gifs be removed to conserve storage space on the site and user submissions be limited to one a day per submitter because of the effort Monkee was investing in the site.
Throughout 2004 the Image World underwent a series of closures and re-openings of submissions while Monkee often publicly addressed concerns about the site's storage capacity and the effort that went into maintaining the site.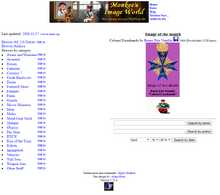 On the 13th of January 2005 Majik Monkee announced Monkee's Image World 2.0 with a completely new layout designed by Adam Biser. The domain was also migrated. The new layout included categories by which graphics could be sorted by tags such as Bosses, Weapons, Walls, etc. In addition to this, graphics could be sorted and searched by author. Erick Bessant-Chavez also began helping Monkee with managing submissions, though how long Bessant-Chavez continued to offer help is unknown.
Despite the new site and help, Monkee still struggled frequently with digital storage space and the effort required to maintain the site. After storage had reached capacity in September 2005, Monkee had announced that the site would no longer accept submissions and would remain hosted as a resource and showcase for modders' graphics. One month later, an anonymous member of the community made a donation to the site which enabled Monkee to obtain more server space and return to updating and accepting submissions for an indefinite amount of time.
Despite this fortuitous development, Monkee's Image World continued to experience periodic closures of submissions due to Monkee's hectic work schedule. In all of 2006 only 21 submissions were accepted until the site stopped updating on November 11th 2006.
As of 2019 Monkee's Image World still remains hosted with all 526 entries.
External Links
Edit
Community content is available under
CC-BY-SA
unless otherwise noted.