Monster Bash 3D was a Wolfenstein 3D mod, announced by Ryan Steinbruner in September 2004.
Based on the 1993 sidescroller, the mod featured virtually all-new graphics and an impressive number of coding changes.
Numerous screenshots were posted, and though Steinbruner would take a leave of absence from the community, he returned briefly in the spring of 2010 and announced that the mod was still in development; however, this has proved to be his most recent update.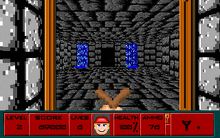 Sometime in mid-to-late 2005, the mod was re-cast using 128x128 high resolution graphics.
External links
Community content is available under
CC-BY-SA
unless otherwise noted.