Description
Edit
A mod for Wolfenstein 3D by AstroCreep using the ECWolf engine, based on Nitemare 3D by David P. Gray. This mod has features such as new weapons, new and interesting enemies, giant sprawling levels, breakable walls and scenery, switch and touch plate activated doors, and much more. Beware the Dave.
The evil Dr. Hammerstein has once again kidnapped your sweet Penelope! This time, he's taking no chances with you and barricades himself in an even more dangerous and haunted mansion. You must travel through graveyards, a haunted house, underground catacombs, and even alternate dimensions to get back Penelope! Can Hugo once again defeat the evil Doctor and rescue the damsel in distress? Or is he gonna be Frankenstein-chow????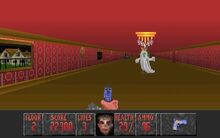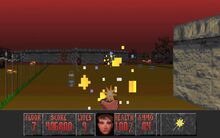 Community content is available under
CC-BY-SA
unless otherwise noted.