Nocturnal - iLOW3D is a mod for registered Wolfenstein, made by Ipank7000. It was released on January 16, 2015. A number of bug fixes followed, with the final version coming out on February 17, 2015.
The mod features three episodes, and is essentially a retelling of original Wolfenstein's Episodes 4, 5 and 6. In order to unlock the two final episodes, the player must have at least played 3 levels in the first episodes.
Many new features include new guards, new weapons and numerous added objects and textures. Some floors were colored as well, including the first level which gives off an old-school outside atmosphere.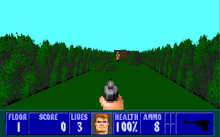 Community content is available under
CC-BY-SA
unless otherwise noted.