Operation Todpfad (final version known as Operation: Todpfad v1.04) is a mod for registered Wolfenstein made by Kyle Albert. It was his fourth mod release and was released on July 8, 2005 after being in the works for close to two years.
The mod features 22 levels, including secret levels. It features pretty extensive coding, including many textured floors and ceilings, new guards, new weapons, a lot of new sounds, 3D directional objects and in-game messages.
Inspired both by Totengraeber and Spear Resurrection, in its final stages its main influence was the then-recent End of Destiny.
With assistance from Chris Chokan, a patch was released a few days after initial release, becoming the final version.
It has still not been ported to SDL and can only be played in DOS.
Genesis
[
]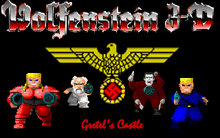 Initially announced on January 21, 2004 as Gretel's Castle, the mod at this early stage already featured most of what would become Operation: Todpfad. A series of screenshots were posted featuring many of these.
On April 26, 2004 it was officially renamed Operation: Todpfad, and a new series of screenshots were posted, here featuring shading and ammo on walls that could be picked up. As with the earlier update, it was again noted that mapping halted the process.
It was obvious that Kyle's coding skills only got better and better, and constant updates and fix-ups were made on the mod.
Kyle was also asked to do the coding for Thomas Weiling's Project Wolfgeist in late 2004. Thomas was a fan of Kyle's and was eager to hear how much more work was needed on Operation: Todpfad.
Thomas was sent an old version of Gretel's Castle and enjoyed it a lot. Eager to show it to Brian Lowe, Kyle made it clear he was against that, and it was never sent.
Thomas was also sent many betas of Operation: Todpfad. Seeing as Kyle obviously had the upper hand in all manners possible within modding, Thomas announced via an update of his own that Operation: Todpfad was pretty much finished. This news was posted in January 2005.
It was not until July that year Operation: Todpfad got released. It was well received, and plays very much in the vein of those who would also enjoy the AReyeP/MCS mods.
External links
[
]