Otto "The Poison Maker" Giftmacher is the fourth boss of Wolfenstein 3D and the first boss of The Nocturnal Missions. He appears as the boss at the end of Episode 4: A Dark Secret.
Otto is the mastermind behind "Giftkrieg," the Nazi chemical warfare initiative. Despite dying in the first episode of The Nocturnal Missions the other two episodes see BJ fighting to halt the operation which Otto had already set in motion.
The battle with Otto is functionally very similar to the fight Doctor Schabbs. The main differences are that Schabbs can take more hits but Otto deals more damage with his rocket projectiles.
Much like the Schabbs battle, it is wise to attack from a position where the player can easily strafe out of the way of projectile attacks. Also like the Schabbs battle, if the player manages to get behind an object that blocks movement it will protect the player from projectiles while they can continue firing their hitscan weapons to knock down Otto's health.
Defeating Otto will end the episode so conserving health or ammo for after the fight are not a concern.
Official Hint Book DescriptionEdit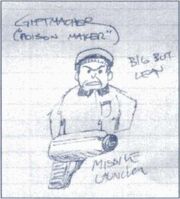 From The
Official Wolfenstein 3D Hint Book
:
Giftmacher (whose name means "poison maker") is responsible for the chemical weapons. But when he needs to waste that rude intruder, Otto turns to his close-range offensive weapon of choice-a mini-missile launcher!
Otto is the only character in the Wolfenstein 3D family of games who uses a rocket launcher solely with no other weapon.

In Wolfstone 3D Otto is replaced with Bombate, a supporting character of the MachineGames Wolfenstein family of games.
ECWolf DECORATE DefinitionEdit
actor Gift : WolfensteinMonster 21
{
    points 5000
    health 850, 950, 1050, 1200
    speed 1, 3
    missilefrequency 0.04
    attacksound "missile/fire"
    deathsound "gift/death"
    seesound "gift/sight"
    +AMBUSH
    states
    {
        Spawn:
            GIFT A -1 NOP A_Look(0, 0, 0, 0, 360)
            stop
        See:
            GIFT A 5 NOP A_Chase("*", "*", CHF_BACKOFF)
            GIFT A 1.5
            GIFT B 4 NOP A_Chase("*", "*", CHF_BACKOFF)
            GIFT C 5 NOP A_Chase("*", "*", CHF_BACKOFF)
            GIFT C 1.5
            GIFT D 4 NOP A_Chase("*", "*", CHF_BACKOFF)
            loop
        Missile:
            GIFT E 15 A_FaceTarget
            GIFT F 5 bright A_FaceTarget
            GIFT F 0 bright A_FaceTarget
            GIFT F 0 bright A_CustomMissile("Rocket")
            goto See
        Death:
            GIFT A .5 A_Fall
            GIFT A 70 A_Scream
            GIFT GHI 5
            GIFT J 10
            GIFT J -1 A_BossDeath
            stop
    }
}