Project: Aniquilation was a mod that was announced by Mega Luigi on October 11, 2003. A document was released containing enemies and sounds.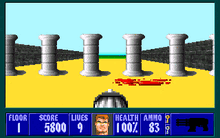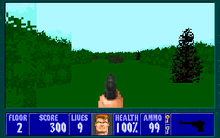 On October 25, a handful of screenshots were posted, which depicted an atmosphere heavily inspired by Quest for the Amulet. This was also evident from the title screen, which name-checked Ian Skevos-Jones, the creator of that mod, in addition to Laz Rojas who had also featured desert themes in some of his WolfenDOOM patches.
On November 24, Mega Luigi posted an update indicating that all work on the mod was done bar the mapping, which was only 65 % done.
No word was heard on the project after this, as Mega Luigi focused his attention on a different project, which was Project: Unzerstöbarer Ritter.
Furthermore, January 2004 saw Mega Luigi in a controversial light, as he tried to pass himself off as John Carmack, creating both jeers and laughs on the DieHard Wolfers' forum.
External links
[
]