Zombies is the fifth mod made by Wes Desjardins. It was released on September 4, 2002. It features 5 small levels showcasing his new Zombie enemy (replacing the dog).
Some graphics were lifted from Spear Resurrection. Based on registered Wolfenstein, it featured a new EXE with rudimentary changes.
Originally uploaded on the old Dome site, it is currently unavailable and removed from the Dome listing.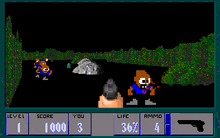 External links Edit